ENERGY BALANCE FOOT SPA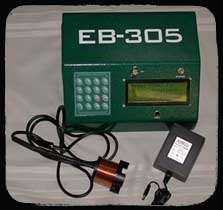 Relax while soaking your feet in a warm, restorative foot bath. The EB 305 uses state of the art research and development to provide a form of energy that the body can readily use. This type of energy is called Bioenergetic/Life Energy. According to Erchonia, the company that manufactures the EB-305, it has been proven in clinical trials to balance and restore the body's electromagnetic energy.

The advantages of EB 305 over other foot detox machines are:
1. The EB 305 is the only machine to use energy from direct current (not converted energy) similar to that of the human body.


2. The EB 305 also has the ability to run both positive and negative ions. The advantage of this type of bipolar unit is the ability to alter the body's pH by using positive or negative charges. These charges assist the body in every aspect - from its ability to detoxify to its ability to digest.


3. Average session time is 18 - 23 minutes. Almost half the time of other machines due to an increase in EB ion production making the sessions more time effective.